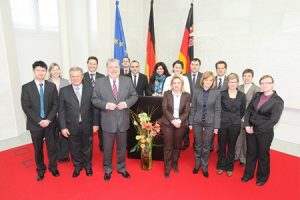 Project period: 2008-2012
On behalf of: German Foreign Office, Robert Bosch Foundation
Project description
The target group of the 'Diplomatenkolleg' are young diplomats from Europe, the
Southern Caucasus region, Central Asia and China stationed in Germany. The approx.
9-month part-time program offers them the opportunity to experience
Germany from a variety of perspectives. By attending informative events, conducting discussions with experts and participating in cultural events, participants are introduced to various aspects of life in Germany. In addition, they meet with high-ranking representatives of public life, including various institutions, prominent figures from politics, business and culture. The network of diplomatic college alumni includes over 120 diplomats from 38 countries to date; many now hold management positions in diplomatic areas of their home governments.
Before his retirement, Hans Peter Schiff held the post of German Ambassador to
Hungary. He was Director General for Management and Human Resources at the
German Foreign Office.